You couldn't forget about The Breakfast Club even if you tried: John Hughes classic teen dramedy is the ultimate teen movie that all teen movies since have been trying to recreate – consciously or unconsciously. If you're feeling a little lost, sit back and enjoy this 80s hit while whole-heartedly taking a bite out of your breakfast bagel in your pyjamas…
The Breakfast Club (1985):
Written and directed by John Hughes; running-time 1h 37mins.; starring Molly Ringwald (Sixteen Candles), Emilio Estevez, Judd Nelson, Anthony Michael Hall (Awkward), and Ally Sheedy.
What's it about? March 24th, 1984: Saturday detention brings together five archetypal characters  you meet in high school: the nerd, the prom queen, the jock, the emo, and the basket case. Isolated from their usual posse, the eclectic bunch discovers that you shouldn't judge a book by its cover and slowly starts to form a connection.
What's it really about? The unbearable pressure of figuring out who you are as an individual and not let society turn you into someone else.
Pick if:
You're looking for a movie to watch while having breakfast in bed, whether you're alone, with your partner, or your friends after a sleep-over
You're addicted to Buzzfeed quizzes that tell you which character in a TV show or movie you are most like: you're bound to relate to at least one of these characters in some way…
You like movies such as Pretty in Pink, Sixteen Candles (both written and directed by John Hughes), Dazed and Confused, or Ferris Bueller's Day off
You're a fan of coming of age stories. Even if it means listening to teenagers discussing sex, drugs, bullying, school, parents, and  their uncertain future
You appreciate a great script: John Hughes words feel both like a relic of the 80s and paint a timeless portrait of highschool life
You've never seen it: All the pop-culture references you've undoubtedly come across will suddenly make sense, among them the final scene in Pitch Perfect when Becca punches the air, that one episode of Dawsons' Creek that tries to pay hommage to the movie by re-creating the detention scenario, Boy Meets World's hilarious mash-up of Scream and The Breakfast Club, the obligatory Simpsons parody, the subtle reference on Community, that one Vampire Diaries episode that tries to pay hommage to the movie by re-creating the trapped in a library scenario, and the considerable influence the movie has had on One Tree Hill, from Julian's obsession with John Hughes movies, to him falling in love with Brooke when he sees her dancing to Don't you forget about me in her shop, to the theme of the episode "Pictures of you" (4×13). I'm telling you, The Breakfast Club is one of the most unfluential movies of our time. Plus, it's really good…
Most memorable quote: Since listing the closing narration as the best quote might be considered as spoiling the movie, I'm going to go with this one instead. But just to be clear, the closing narration is actually the best quote of the entire movie.

"We're all pretty bizarre. Some of us are just better at hiding it, that's all."- Andy
Most memorable scene: The group decides to disobey their teacher's orders by going for a walk down the hallway while he is in the cafeteria getting coffee. When they see him making his way back towards them, they start running, trying to make it back to the library without him noticing that they were ever gone.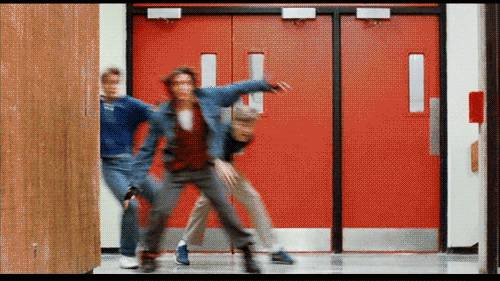 Magic Music Moment: After spending eight hours in detention on a Saturday, the kids finally get to go home. As they are picked up by their parents one by one, Brian's essay is read out in voice/over as the closing narration. Simultaneously, the film's theme "Don't you forget about me" by the Simple Minds starts to play. It became the band's biggest hit and an anthem to an entire generation of youths who felt miunderstood by their parents and society.